Order Securely Online or call toll free
877.BioMat.Order (1-877-246-6286)
Bundle Sale!

Now until January 20, 2024: Bundles on sale and get a FREE gift from Richway with your order! Choose your gift based on amount ordered.
We hope that you will find our products of exceptional quality, and receive many health benefits as a result of using them. Richway and Fuji Bio Inc. continues to seek enhancing and innovative ways that allow you to live and look both healthy and happy. We create all of our products with cutting edge technology, engineering and methodology to meet your expectations of quality, performance and professional design.
The Richway Amethyst Biomat is used by thousands of satisfied customers all over the world. Experience the soothing 3-part synergy of quantum energetics from Infrared Heat Rays, Negative Ion therapy and the healing properties of Amethyst.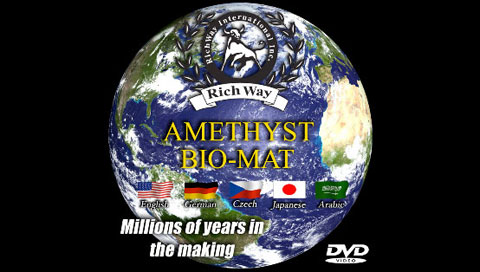 Watch the Amethyst Biomat video
Our Newest Product: is called NMN Octa 3000 which NMN contains one key ingredient, Octacosanal, and we are confident to say the Richway NMN Octa 3000 will become the best NMN product on the market. UTHEVER NMN is the most stabilized, pure, pharmaceutical grade NMN on the market. NMN Octa 3000 combines Octacosanol, Pterostilbene, L-Arginine, and Isoflavones. Support efficient utilization of nutrients Octacosanol might help improve the way our body uses oxygen. A quality life is not only about living longer, but also living a healthier life.
The gentle warmth of the Richway Amethyst Biomat may give you an overall massaging effect, relaxing muscles and relieving back pain and arthritis pain. You may feel rejuvenated and renewed, restored in body and mind.
Get a $100 Professional discount with copy of health practitioners license/certificate.
Get a $100 Military Veterans and First Responders discount with copy of qualifying documentation.
Richway Bamboo Silk Comforter. Richway's Bamboo Silk Comforter is made from organic bamboo fiber, which helps keep your skin feeling fresh, while providing silky smooth comfort for a relaxing sleep. Bamboo Fiber is an eco-friendly and 100% biodegradable alternative. Available in Single and Queen.
Need the Richway Biomat shipped to USA?
We also ship the Biomat worldwide:
Alaska
Asia (India, Philippines, Malaysia)
Australia
Belgium
Canada
China
Denmark
Estonia
Finland
France
Germany
Hong Kong
Hungary
Iceland
Indonesia
Italy
Korea
Luxembourg
Malaysia
Netherlands
New Zealand
Norway
Portugal
Romania
Russia
Singapore
South America (Argentina, Brazil, Venezuela, Peru)
South Africa
Spain
Sweden
Switzerland
Taiwan
Thailand
United Kingdom
Guam, Puerto Rico
All countries in the EU zone 1 (United Kingdom, France, Netherland, Norway, Sweden, Germany, Italy, Belgium, Spain)
All countries in the EU zone 2 (Switzerland, Denmark, Hungary, Iceland, Estonia, Finland, Russia, Luxembourg, Portugal, Romania)
"Hi Steve,

I am noticing huge changes. I also sleep better, and have more energy upon waking. The biomat is worth its weight in gold. My husband is also waking up refreshed and has more energy.

Thanks,"
Tammy
Jacksonville, FL, USA
February, 2007
We are very excited to offer to you at no charge a book titled "The Fourth Treatment for Medical Refugees". Written by Nobuhiro Yoshimizu M.D. Ph. D, Nakamachi Garden Clinic Director, this book discusses Thermo-therapy, the fourth treatment option. Download it here free.
Substantiated by the Nobel Medical Committee

Press Release: 7 October 1991 The 1991 Nobel Prize in Physiology or Medicine. The Nobel Assembly at the Karolinska Institute.
The Nobel Assembly at the Karolinska Institute has today decided to award the Nobel Prize in Physiology or Medicine 1991 jointly to Dr. Erwin Neher and Dr. Bert Sakmann for their discoveries concerning "the function of single ion channels in cells" Read more...
I am ready to start restoring my health with the Biomat
"Yesterday I received the Queen size Quantum Energy Pad and put it on my bed on top of the biomat. Wow!! Now it feels like I am sleeping on my mattress again and not the floor...." Read more in our biomat testimonials...

Steve M.
ISA
Sacramento, CA
May 2014
The Amethyst Biomat is a unique innovation in bio technology available in 5 different sizes containing 17 layers.
The Biomat is a high heat mattress pad. The pad does not get hot when it is turned on. The Biomat warms the inside of your body and the part of the pad making contact with your skin gets warm. An electric blanket or electric heating pad uses electric current which runs through it which is not healthy. When any part of the pad gets higher than the selected temperature, the sheet current is cut off by thermal sensors distributed throughout the pad. It comes with an external control box where the AC is converted to DC, and you can adjust the desired temperature of the pad. The Biomat controller has Electromagnetic Interception (EMI) which blocks the harmful EMF, as well as a Timer so you can set it to turn off in 2, 4, 8, or 12 hours settings.
EMF (Electromagnetic Fields) is a term used to describe the invisible electric and magnetic fields radiating from all electrical appliances in the home, office or factory, in vehicles, and train lines. All Biomat products have been tested by TUV SUD for Electromagnetic Fields and were found to be in compliance with IEC 62233 (ed. 1) and EN 62233:2008.
Enjoy the soothing Infrared Heat Rays and Negative Ion therapy recommended by Health Care professionals in the privacy of your home. The quantum energetics are profound and cumulative and benefit the body, mind and spirit.
We accept payment through our shopping cart with any major credit card (option available at end of checkout process), Paypal, Paypal Credit, Amazon Pay and Apple Pay. You do not need to set up an account to use a credit card. If you still want to order with a credit card and not order online, give us a call toll free at 1-877-Bio-Mat-Order (1-877-246-6286) or contact us. When you click to add an item to our shopping cart, you will be taken to our secure shopping cart https://orderthebiomat.com.